3-15.6'' Automatic Bar Code Scanning Machine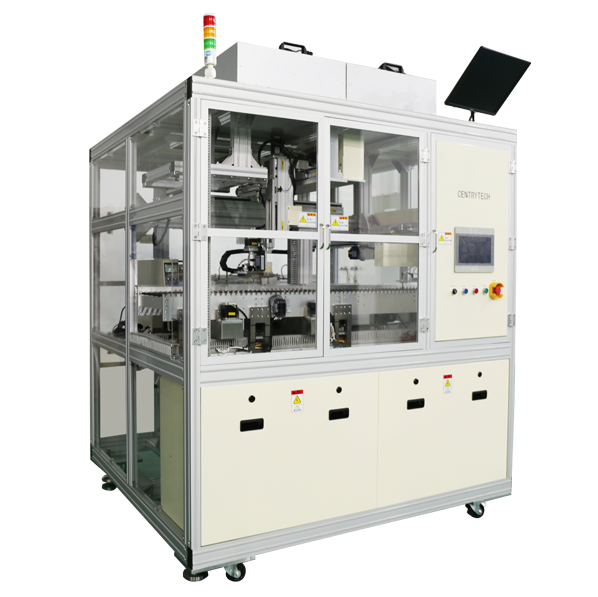 MFQ-G15J-A is an automatic bar code scanning and labeling device. The main processes are as follows: 1. Transfer a panel into the labeling machine from the egress of the labeling feeding machine; 2. Perform automatic alignment and bar code scanning on the panel; 3. Perform automatic coding and labeling on the panel; 4. Re-scan the laminated label and check whether the coding contents are OK; 5. The NG product discharge function is provided; 6. Move the finished product into the terminal cleaning machine. The device is stable and reliable in operation and easy to maintain.
(1) A panel is automatically aligned and scanned on the alignment platform.
(2) Strong and weak vacuum switching function.
(3) The platform uses the vacuum adsorption fixing method that will not cause damage to products.
(4) The scanner has a scale comparison position by X manual adjustment, which is convenient and fast.
(5) The labeling mechanism automatically takes and laminates a label from the label printer and performs scanning detection again.
(6) The unloading arm is driven by a synchronous belt.
(7) Touch screen operation.
(8) All parts can be separately operated in manual mode to facilitate an adjustment to the machine.
(9) Vacuum air pressure detection alarm.
(10) Audible and visual alarm function.
(11) Alarm records are saved for query at any time;
(12) At least 300 groups of recipes can be saved.
​
Product Line Name
3-15.6'' automatic bar code scanning machine
Capacity
≤6 S/PCS
Product Requirements

Max: 15.6'' (Y-axis direction: 250 * X-axis direction: 360) mm

Min: 3'' (Y-axis direction: 47 * X-axis direction: 60) mm

Thickness: 0.3–1.4 mm

Labeling Precision
(Visual Positioning)

X-axis direction: ±0.5 mm (Product factors excluded)

Y-axis direction: ±0.5 mm (Product factors excluded)

Overall Dimensions
Overall line length: 1,470 mm

Overall line width: 1,500 mm

Overall line height: 2,400 mm (FFU included)

Overall Line Weight
1000Kg
Air Source
Pressure: 0.5-0.8 Mpa
Air consumption: > 200 L/min
Power Supply
Three-phase 220 VAC
Rated Power
2KW
Vacuum Source
Vacuum pumping speed ≥ 100 L/min; negative pressure 0 to -100 kPa (Provided by the customer)